Tree Trimming Service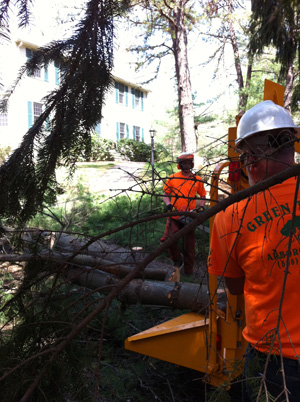 Green Trees Arborcare Inc. is a full service tree trimming company in Norfolk, MA. Commercial and residential tree and plant care is available throughout the Southeastern Massachusetts. We employ the latest techniques and quality tools to provide you with the best tree trimming results. Whether your tree is small or large, we understand the appropriate method to ensure the health of your tree, while getting the job done!
Our hope is that we can do as much as possible for the tree to improve it's health or restore its shape through trimming.  Proper tree trimming improves the health and appearance of trees, prolongs life within the tree and encourages thriving lawn growth beneath it.  Through tree trimming, dead, dying or diseased wood is removed, shape is enhanced, and limbs can be raised to clear height. A certified arborist knows the proper techniques for determining the angle and position of the correct cuts to a tree.  Some one without this experience and training could actually damage the tree, jeopardizing its future health.
Tree Trimming Services We offer:
Remove limbs over your house or your neighbor's house
Remove low hanging limbs that get in your way or obstruct the view of your home
Trim out the dead branches to make the tree look fresh again
Trim the tree away from lines
We also offer trimming for the long term structural integrity of the tree.
Remember, the structure a tree has when it's small is the same structure it will have when it is large. Structural problems are easy to correct when the tree is smaller or even medium sized. To the right is a picture of a tree thawing out after an ice storm.  It's a nicely trimmed medium sized tree and helps with visualizing the points listed below.
No two branches should grow too close to one another.
No bark should be rubbing, especially at the base of any limbs.
Get An Estimate
Request An Estimate Today!
We'd be happy to come evaluate your property, discuss your needs, and provide you with a competitive quote.
Get An Estimate