Tree Pruning Service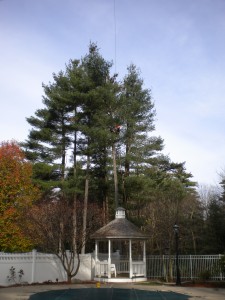 Tree pruning can be a delicate procedure. Shrubs and trees may need to be considered with an understanding of the tree and plant structure. We understand how to employ the entire aesthetic of your plants, to ensure a cohesive pruning for your trees and shrubs. Many aspects must be taken into account when beginning a pruning service. The plan structure, biology, and physiology all make a difference when developing your plant life. Many times the types of plants, perennials and annuals all need to be considered while pruning your larger shrubs and trees. Pruning and trimming should take place whenever there are loose branches, but Green Trees Arborcare Inc. understands the dormant seasons and how to preserve the health and sap loss.
Green Trees Arborcare understands how  proper pruning techniques  can assist the long term tree health.  To insure that your trees remain healthy and a beautiful complement to your home, proper maintenance is essential. In a forest, trees grow differently than in the selective environments homeowners place them in.  This results in different growth patterns which are sometimes misguided and often erratic, making proper tree pruning necessary.
Tree pruning is important for a number of reasons.  First, proper pruning helps to eliminate  dangerous situations by removing dead, damaged or diseased wood and limbs.  Secondly, proper pruning helps prevent tree diseases by increasing air flow and promoting strong growth which resists damages.  Lastly, pruning helps to aesthetically enhance the natural character and beauty of your trees by promoting better foilage and flower growth.
With a little bit of love, and some proper pruning, your trees can become a beautiful asset to your home and property. Our extended reach bucket truck helps to provide the lift necessary to reach the tallest trees, and shape them properly.
Get An Estimate
Request An Estimate Today!
We'd be happy to come evaluate your property, discuss your needs, and provide you with a competitive quote.
Get An Estimate