Stump Grinding and Removal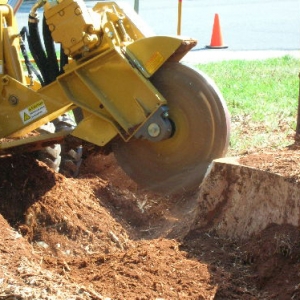 In the unfortunate situation that your tree may need to be completely removed, you must also realize that there is a stump to be removed as well. These unsightly tree stumps can be removed no matter how large or small the tree was. We employ power stump grinders to make mulch and wood chips out of the existing stump. Green Trees Arborecare Inc. can grind the stump down to an appropriate level, as deep as 6 to 16 inches. Let us help the aesthetics and design of your residential or commercial lawn, by removing the left over stumps of fallen or dead trees.
Stumps also stand in the way of other plants thriving in their place. The remaining soil is ready to use for other purposes, once they go through the grinding process. However, the stump grinding will need to be a bit deeper than when no plans exist to use the area.
The size of the tree stump will determine the cost of professional service. In addition, if there is more than one stump, the price of grinding will be higher than for a single stump. Whatever reason you need to remove your stumps, call us today. We will send someone out to further analyze the job and provide you with a quote for our service.
Stump Grinding Is Not For Amateurs
Stump removal seems like an easy enough task.  Even a caveman should be able to do it!  Many contractors attack stumps with little regard to the factors which should be addressed before the job begins.
Proper planning when stump grinding starts not with what you can see, but really what you cannot. Often, when in a rush to get in and get out, many contractors overlook hidden obstacles which can become  big problems. When grinding or removing stumps  it is important to be aware of all utilities on the property.  Grinding through a 240 volt electical system can have tragic results, and no one wants to lose their phone, internet or cable high definition entertainment. Stumps come in a variety of shapes and sizes and trees vary tremendously in the density of their wood and in the variance of their root systems.  Some stumps can be ground to just below the surface, while others should be taken deeper.
Get An Estimate
Request An Estimate Today!
We'd be happy to come evaluate your property, discuss your needs, and provide you with a competitive quote.
Get An Estimate