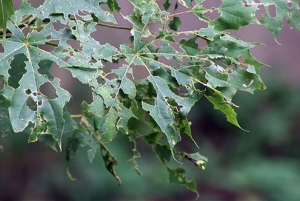 At Green Trees our plant health care is designed to preserve the health and beauty of your trees and shrubs. We offer an environmentally sensitive and effective approach to insect and disease management, as well as non-parasitic conditions. We offer both traditional and organic programs to suit the needs of you and your landscaping. With our highly trained staff and the newest equipment, Green Trees is able to handle any situation.
Tree or Shrub Spraying
In Massachusetts, our residential or commercial trees or shrubs may require spraying to prevent insects or diseases. In most cases, a non-toxic product can be used to control the target pest, avoiding any harm to the environment. Green Trees Arbor Care Inc. will always avoid the application of toxic chemicals where ever possible. We have the equipment and skill necessary for a safe application to plants up to 100+ ft. tall.
Disease Diagnosis
The best thing for maintaining proper plant health is proper diagnosis – the ability to recognize future problems before they happen. Our experienced arborists will visit your  residential or commercial property to thoroughly inspect all of your shrubs and plants. Once your property has been evaluated, we'll present you with options to proceed. A plant health care program can consist of anything from simple cultural controls, such as proper watering and fertilizing, to an aerial spray of all trees and shrubs.
Root & Soil Fertilization
In New England, our soil is lacking in living organic matter. The roots of trees and shrubs are often unable to absorb much needed nutrients due to the absence of living organisms in the soil. Just as you will add organic matter to your vegetable garden, we will inject the soil beneath your trees and shrubs with our organic fertilizer. The increase in natural elements and microbial activity will greatly improve the plant's ability to use the newly available nutrients in the soil.
Get An Estimate
Request An Estimate Today!
We'd be happy to come evaluate your property, discuss your needs, and provide you with a competitive quote.
Get An Estimate