Experienced Crane & Bucket Truck Services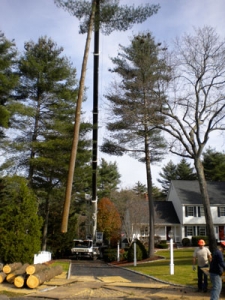 If you're looking for experienced crane services in Massachusetts, then you've come at the right place. Our crane operators are professionals and highly trained. They have been in the job for a long time. At Green Trees Arborcare Inc., we provide you experienced crane services.  We're tree experts and we have the best crane operators around. We'll get the job done.
 Today, crane use is the industry standard to remove trees from difficult and hard to reach areas. Unlike other methods, cranes lift and lower heavy pieces to the ground with little or no impact to lawns, plantings or nearby structures. In most cases this eliminates the need to drive heavy trucks and equipment on lawns and planting beds. In every case our trained and experienced crews make sure to leave your property in nearly perfect condition.
Crane Services For Trees With No Access
Some trees have little or no access.  Trees located in between structures, near utility wires, or in landscaped areas may require assistance from a crane when being removed.  Using a crane to remove a tree ensures a fast, effective and safe means in getting a tree on the ground.  With minimal to zero impact on a property, crane assisted tree removals can save you money, time, and disturbance to your property.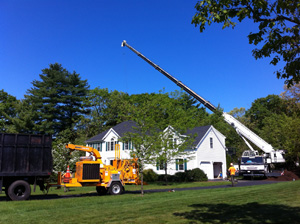 No matter how difficult your tree problem may be, you can depend on us for any tree removal job. Our crane gives us the ability to hoist trees and limbs over buildings and other large obstacles with ease. Do you have a tree in your front yard with large branches hanging ominously above your roof? We have all the necessary tools and equipment to reach the highest tree limbs and cut down the largest trees.
Get An Estimate
Request An Estimate Today!
We'd be happy to come evaluate your property, discuss your needs, and provide you with a competitive quote.
Get An Estimate